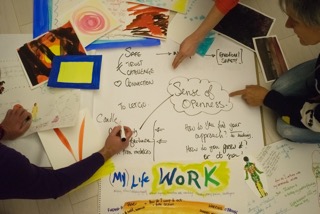 Emotional Anatomy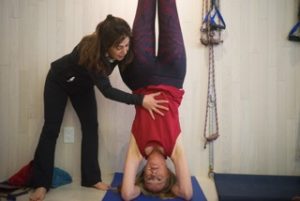 Teacher Training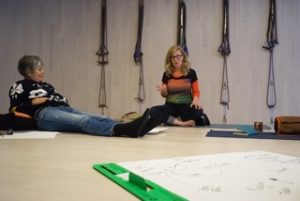 Emotional Anatomy
Setu Yoga Studio's teacher training program comprises two years of comprehensive introductory level training program, covering the foundations of teaching yoga, as well as performing and adjusting the asanas.
Our goal is to prepare trainees to lead classes in safe and intelligent ways, as we gradually coax the individual trainee's innovation and creativity in their own approach to teaching yoga.
At the introductory level, trainees are encouraged to master the sense of practicing yoga with precision. Fostering such a profound understanding provides the best platform from which one can deepen the craft of teaching.
The program is led by Mahyar Raz, the most senior certified Iyengar Yoga instructor in Canada. Mahyar has for more than 30 years studied under the direct supervision of her late guru, Mr. B.K.S. Iyengar. Since September of 2000, Mahyar has been cultivating, instructing, and preparing successful yoga teachers in Canada.
Program Dates and Duration
Our teacher training program begins in September of each year and lasts approximately two years.
Program Structure
Setu's teacher-training comprises two years of comprehensive introductory level training program, covering the foundations of teaching yoga, performing and adjusting the yoga asanas. An optional third year advanced level, which focuses on introduction to yoga therapeutics and special care adjustments, is available to the interested and successful graduates of the introductory teacher-training levels at Setu.
Some traditional components of the program include advanced classes, asana workshops, and physical anatomy. New to the program are development workshops in areas such as emotional anatomy. To promote success in building lasting & deepening rapport with the wider yoga communities, these unique workshops are created to help our trainees view their relationship with future students from perspectives that go beyond the traditional boundaries of instructor-follower models.
Who can apply?
Ideal applicants for the introductory level of the program should have:
Interests in teaching yoga for the purposes of enhancing the self and contributing to the advancement of yoga in people's lives;
Desire for intelligibility and deepening of one's practice;
Patience, maturity, and a positive attitude;
Good emotional, spiritual, and physical health;
Proficiency in introductory asanas including standing poses, twists, forward and back bends, shoulder and head stand;
Familiarity with Iyengar Yoga;
Established a personal discipline of practice in asana and pranayama;
In some cases, an evaluation by the Program Director will be required to corroborate the application.
Program Expectations
Impeccable attendance, and presence of mind, to every section of the teacher training courses, workshops and events;
A devoted commitment to learning and improving in each and every section;
Disciplined effort to mastering the practice and teaching of asanas and pranayama;
Successfully pass all scheduled assessments.
Fees
For program costs and payment structures contact the studio either by email or phone.